article below posted October 20, 2010   
A Bellhop in the Swingin' Seventies
from the resume of John Ambrosavage
Cartoonist John Ambrosavage has had a lot of time on his hands lately, so he has been working on his resume. In detail.
Bellhop 1972–76
While I was in college I worked at the Hilton Hotel. During the "days of rage" of the 1970s I was serving the rich and privileged. This helped me prepare for all the work I did in law firms later in life.
Jimmy Liberty was the owner of the hotel. He was a Dapper Dan dude: a short, muscular, Mafioso-style big shot, but "unconnected" as far as I knew. He walked around with his chest puffed out in front of him like a pigeon, and a constant stream of cigar smoke following him around like a choo-choo train.
Once I was taking the bags up to the room of a short, bald, skinny, bent-over bespectacled dude. As we crossed the lobby he saw Jimmy and glad-handed him with a big slap on the back and said "Hello Jimmy, gosh darn it is good to see you! How is the wife, how are the kids?" Then when we got into the elevator he turned to me and said, "That Jimmy Liberty is
such
an asshole!" And I thought, "Geeze who's the asshole? Jimmy or
YOU
."
Jimmy's "kids" were three daughters in their late teens to early twenties. Each and every year I worked there, Jimmy kept all "the girls," and also his wife, in brand new Cadillac Eldorado's, fresh off the factory floor. Jimmy had one himself, and a Fleetwood too. Hell, for all I know, Jimmy's cat drove a caddy.
It was a really fun job, except I eventually grew cynical and jaded, as I could tell just from looking at customers who was going to tip and who was not. Nicely burnished shoes were a big "tip off." When I found I was judging people by their feet, this disturbed me more than somewhat.
I was really thrown once, though. Europeans were typically bad tippers because they weren't from a tipping culture. One day I was carrying the bags of a fellow who was wearing scuffed shoes and who was not only European, but also from
Scotland
! I thought, "Oh geez, there is going to be nothing here for me!" After I got him up to his room, set his bags on the luggage stand, turned on the AC, and opened the curtains, he slipped a bill into my hand as I left. I was surprised to even get a dollar, but when I got into the hallway I looked at the bill and it was a
five
! I was shocked.
I went back to his room and knocked on the door. He answered and I said, while holding up the bill, "Excuse me but did you know that you gave me a five?"
He looked at me with a smoldering stare and said, icily: "Yes." Obviously he was on a one-man crusade to debunk the stereotype of the Scottish as cheapskates.
During this time I started informally drawing a cartoon strip called Super Bellman. Super Bellman had super powers which allowed him to be a vastly superior incompetent nit-wit. Kind of like me. Day after day I would doodle the adventures of Super Bellman in the margins of the daily log sheets we kept for accounting. Day after day I would send the log sheets down to accounting. Day after day I heard nary a word back from them about what they thought of my extensive doodles. One day though, I had to run something or other down to the accounting department, and I saw the walls were papered with my cartoon strips. Dozens of them. Wall to wall Super Bellman! I was humbled and proud at the same time.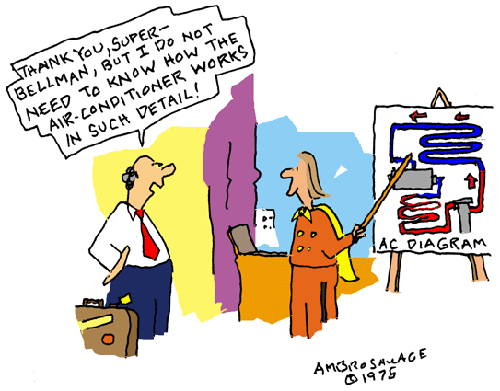 An early "Ambrotoon"
There was a guy who ran a limo service in town named Troy. He had a few limos and limo drivers running around town in stretch caddies. He himself drove a beautiful 1956 Cadillac limo, black, chrome-filled, beautiful. GM bought it from him for their museum when he turned over a million miles on the car. I often chatted with Troy as he hung out in the lobby waiting for fares.
Once while I was talking to Troy, a quiet man wearing a super-loud sports jacket—a jacket that was as loud as he was meek—came up and pulled me aside and quietly asked if I could get him a woman. I gave him my standard reply which was, "Hey, I can't even get
myself
a woman!"
I returned to chatting with Troy, and Troy stuffed a bunch of his business cards in my hand and said, "The next time that happens to you give the guy one of these!" I must admit that I was still so young and innocent that I was shocked. Troy looked like such a nice guy. Well, he was a nice guy,
and
a good businessman. Full service!
One of Troy's drivers was a little guy in his sixties, as nice and polite a guy as you would want to meet. He was a Mormon and talked to me all the time about Mormonism. But he also gave me rides to my classes after my shift in his shiny blue stretch limo so I was glad to let him talk on.
In those days, in a less specialized world, the bell man also doubled as a room-service waiter. One morning, working the 7 to 3 shift, I was very bleary-eyed because the night before I had gone to a Patti Smith concert, where she had rocked my world and that of my friends. And after the show we had kept rocking, and of course drinking.
So, in a semi-functional state I took my first call of the day, for a bagel and coffee, up to a room. I knocked on the door, and Patti Smith answered! She was wearing a long t-shirt and looked like death warmed over. She looked just like I felt. I have felt a special bond with Patti ever since, except that my hero-worship was somewhat dimmed by the fact that she only tipped ten percent.
Which reminds me that once I got a call from a woman who by her accent was a New Yorker. She asked me for an iced coffee. I had never heard of such a thing. I said: "You want me to put
ice
in your
coffee
!?" There was a pregnant pause and she said, "Yes," and silently to herself, "You stupid hick," I am sure!
Editor's note: Mr. Ambrosavage probably could add more detail and depth to his resume, but hopefully the above will suffice for the years 1972–1976.
◆
Comments (5)
Please keep comments polite and related to the above page.
This comment form is powered by GentleSource Comment Script. It can be included in PHP or HTML files and allows visitors to leave comments on the website.