"The truth is the truth, or the truth is surely a lie."
---

Issue Number 7 Dec '93 - Jan '94

---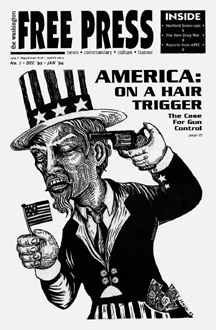 A Free Press Special Report:
America On a Hair Trigger:
The Case for Gun Control
Now that politicians are finally mustering the bravery to stand up to the National Rifle Association, all eyes are turning to Olympia, where lawmakers have their sights set on passing the state's first meaningful gun control in more than a decade.

Our coverage begins with First Word and continues in the articles below. We hope that this package will add depth to an historically demagogic debate.
cover art by Jenny Schmid
photo this page by Brian Benson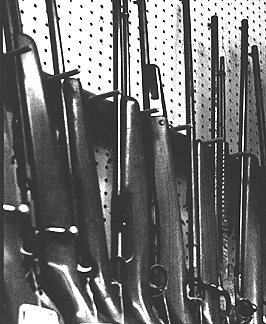 The First Word
What's So 'American' About Killing Each Other?
by Mark Worth
Can't Control People? Try Controlling Guns
by Mark Worth
Who We Are and How We Die
by Eric Nelson
Teaching a World Without Guns
by Andrea Helm
'Second Amendment' Arguments: Bankrupt and Just Plain Wrong
by Doug Collins and Eric Nelson
Q&A: Alan Gottlieb
Of the Second Amendment Foundation
interview by Mike Blain
The NRA: Loading up the Campaign Coffers
Here are some of the National Rifle Association's favorite targets for campaign contributions in the Washington State Legislature.
Wilder Than the Wild West
by Doug Collins
Gun Advocates: What They're Saying
Quotes you should hear.
Gun Control: What's In, What's Out
Here's a sampling of what gun-control measures have made it on the books over the past decade or so, and some of those that were proposed but didn't make it.
Fun Gun Facts
Statistics you cannot ignore.
Get Involved
Want to work for stronger gun control? Or help stop violence in your community? Or, if you own a gun, how to use it safely? Here are a fews of the many organizations and agencies that can help you get started.


WFP readers respond to these articles.
---
FEATURES:
What's red and white and blue in the face? The 100 leftist Anglos who nearly went to war with each other at the Anti-Intervention Conference.
by Mark Worth
Having lost the War on Drugs, the federal government has found new enemies, and they're probably sitting in your kitchen this very moment.
by Kaz Murphy
Whether you were a trade rep whoring for the best price or a P.R. flack sucking up to reporters, the APEC convention had all the action.
by Doug Lauen
Anway you pitch it, the name of the game is profits 'the world over'.
by Eric Nelson
---
SPECIAL:
Conquest in song.
by Brad Warren
Bah-Humbug You Scumbag!
Send us your nominations for "Scrooge of the Year".
What You Think of Us
Results of our recent WFP Reader's Poll
---
THE REGULARS:
Mail Actual letters from actual readers.
Be Our Guest Guest columnists tell it like it is.
Free Thoughts Opinions we couldn't keep to ourselves.
Follow File Updates of past WFP stories.
Investigative Digest A sampling of groundbreaking news stories.
Working Of and relating to labor.
reported and compiled by Doug Collins.

Spike, the Rabid Media Watchdog The poop on the local information industry.

reported and compiled by Mark Worth and FP Staff.

EnviroWatch How humans treat their surroundings, each other, themselves.

Northwest Books Regional writers in review.

literary review by Kent Chadwick.

Reel Underground Your guide to experimental film.

music reviews compiled by Marshall Gooch.

Free Facts The Northwest in numbers.

Quotes of the Month Things people said.

On Latex Condoms in review.

Dick Lande
---
BEHIND THE SCENES:
---
Washington Free Press
1463 E. Republican #178
Seattle, WA 98112
WAfreepress@gmail.com

---
[Home] [WFP Index] [WFP Back Issues] [E-Mail WFP]
---

Contents on this page were published in the December/Jan, 1994 edition of the Washington Free Press.
WFP, 1463 E. Republican #178, Seattle, WA -USA, 98112. -- WAfreepress@gmail.com
Copyright (c) 1993 WFP Collective, Inc.