Named the State's Best Non-Daily Newspaper by
the Washington Press Association
---

Issue Number 23 September/October 1996

---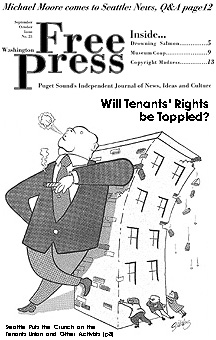 Cover Art by Jim Gibbs
City Bucks Means Pressure Against Tenant's Rights

by Doug Collins
An illegal coup at the African American Heritage Museum?

by Georgi Page
Guerilla filmmaker Moore gives us the scoop. (Moore will also be in town on October 22nd, get the details here.)

by David Hirning
Protecting artists clashes with free expression.

by Doug Nufer
It needs a democratic funding source.

by Doug Collins
WFP picks the best of the bunch from this year's primary.

by Free Press staff
---
FEATURES:
What can one really expect from internet promises?

by Norman Solomon
And now God is upset.

by Cory Herndon
---
THE REGULARS:
Reader Mail Actual letters from actual readers.
Working Of and relating to labor.
reported and compiled by Doug Collins.

EnviroWatch How humans treat their surroundings, each other, themselves.

Spike, the Rabid Media Watchdog The poop on the local information industry.

reported and compiled by Eric Nelson.

Northwest Books Regional writers in review.

literary reviews by Kent Chadwick

Art in Review What's new at the gallery.

Reel Underground Your guide to experimental film.

film reviews and calendar by Paul D. Goetz.
---
BEHIND THE SCENES:

Washington Free Press
1463 E. Republican #178
Seattle, WA 98112
WAfreepress@gmail.com
---
[Home] [WFP Index] [WFP Back Issues] [E-Mail WFP]
---

Contents on this page were published in the September/October, 1996 edition of the Washington Free Press.
WFP, 1463 E. Republican #178, Seattle, WA -USA, 98112. -- WAfreepress@gmail.com
Copyright © 1996 WFP Collective, Inc.