---

Issue Number 34 July/August 1998

---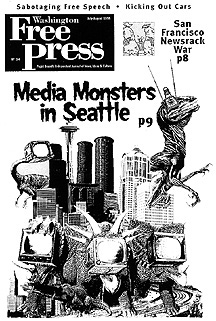 Cover collage by Seymour Caprice
FEATURES:
Small media vs. big in Seattle, San Francisco and Chicago.

stories by Burton H. Wolfe, Doug Collins, and Cameron Chapman
Confessions of a mercenary in the War on Drugs (Part Two).

by Charles Van Wey
An honest cop kills himself.

by Todd Matthews
Olympia activists opposing anti-sedition law attempt to get arrested.

by Roger Valdez
---
SPECIAL:
...leave other concerns in the shadows.

by Norman Solomon
Industry-driven medical board to blame.

by John Ruhland
TV news talking heads deserve every penny of their huge salaries.

by Jim Sullivan
We here at the WFP receive a ton of exchange literature from around the world and now we share some of it with you.

gathered from numerous news outlets.
---
THE REGULARS:
First Word Ideas that cut through the BS.
Seattle construction unearths Duwamish Ancestors.

Free Thoughts Opinions we couldn't keep to ourselves.

Poignant brainwaves from Mother Earth Nature and d. baranov.

Reader Mail Actual letters from actual readers.

EnviroWatch How humans treat their surroundings, each other, themselves.

Working Of and relating to labor.

reported and compiled by Alison Thorne and Doug Collins. Hearing Aids Music as Adventure.
by Wally Shoup.

Reel Underground Your guide to experimental film.

Jewish Film Festival reviews and calendar by Paul D. Goetz
---
BEHIND THE SCENES:

Washington Free Press
1463 E. Republican #178
Seattle, WA 98112
WAfreepress@gmail.com
---
The Washington Free Press is part of the
Speak Easy Network
Stop by and visit one of Seattle's coolest web sites.
---
[Home] [WFP Index] [WFP Back Issues] [E-Mail WFP]
---

Contents this page were published in the July/August, 1998 edition of the Washington Free Press.
WFP, 1463 E. Republican #178, Seattle, WA -USA, 98112. -- WAfreepress@gmail.com
Copyright (c) 1998 WFP Collective, Inc.