---

Issue Number 33 May/June 1998

---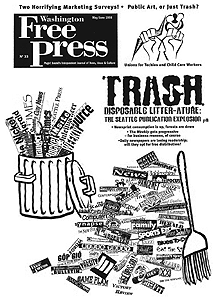 FEATURES:
The Seattle publication explosion.

stories by Doug Collins, John C. Ryan and Alan Thein Durning
Confessions of a Drug War mercenary.

by Charles Van Wey
Some drugs you can't even buy, but the state can make you take them.

by Nick Dispoldo
The University of Washington, possibly the birthplace of McCarthyism, now shows some remorse.

by John Ruhland
Greed and ignorance overrule wetland science.

by Ann Mockler
plus a Plum Creek Update by David Atcheson of PCBP
SOIL Gallery digs up an old controversy and turns it into an art show.

by Laura Lee Bennett
---
SPECIAL:
Somehow it misses Clinton's real moral contradictions.

by Norman Solomon
Two local efforts to organize workers beyond traditional unionism.

by Mark Gardner
There's a huge hole in the ozone and you're going to boycott that little Chihuahua!?

by Matt Robesch
We here at the WFP receive a ton of exchange literature from around the world and now we share some of it with you.

gathered from numerous news outlets.
Help military contractors better meet your needs by filling out this helpful survey.

gleaned from the internet.
---
THE REGULARS:
First Word Ideas that cut through the BS.
The National Debt and trickle-up economics.

Reader Mail Actual letters from actual readers.

Working Of and relating to labor.

reported and compiled by Doug Collins.

American Newspeak Orwellian language and euphemism in corporate media.

Compiled and edited by Wayne Grytting. Spike, the Rabid Media Watchdog The poop on the local information industry.
lead story by Eric Nelson

Northwest Books Regional writers in review.

literary reviews by Kent Chadwick and Robert Pavlik.
---
BEHIND THE SCENES:

Washington Free Press
1463 E. Republican #178
Seattle, WA 98112
WAfreepress@gmail.com
---
The Washington Free Press is part of the
Speak Easy Network
Stop by and visit one of Seattle's coolest web sites.
---
[Home] [WFP Index] [WFP Back Issues] [E-Mail WFP]
---

Contents this page were published in the May/June, 1998 edition of the Washington Free Press.
WFP, 1463 E. Republican #178, Seattle, WA -USA, 98112. -- WAfreepress@gmail.com
Copyright © 1998 WFP Collective, Inc.