---

Issue Number 32 March/April 1998

---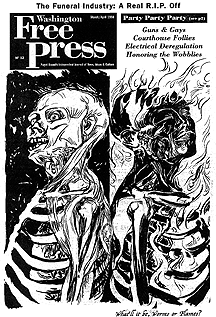 FEATURES:
Four stories on death planning.

by Doug Nufer and Fredrika Sprengle
False Arrest in Seattle?

by John Hoffman
Labor mural reminds the city of Centralia about its suppresed labor history.

by John Ruhland
Electrical deregulation will give you a shock.

by Eric Nelson
City allows consideration of no-logging option.

by Scott Denburg
---
SPECIAL:
An up beat memo from the Grim Reaper.

by Norman Solomon
They're arming themselves for the Sexuality War, and they aren't taking any prisoners.

by d. baronov
---
THE REGULARS:
First Word Ideas that cut through the BS.
The Washington Free Press is five years old!!

Reader Mail Actual letters from actual readers.

Free Thoughts Opinions we couldn't keep to ourselves.

Working Of and relating to labor.

reported and compiled by Doug Collins.

American Newspeak Orwellian language and euphemism in corporate media.

Compiled and edited by Wayne Grytting. Spike, the Rabid Media Watchdog The poop on the local information industry.
lead story by Nick DiSpoldo

Northwest Books Regional writers in review.

literary reviews by Kent Chadwick.

Reel Underground Your guide to experimental film.

Jewish Film Festival reviews and calendar by Paul D. Goetz
---
BEHIND THE SCENES:

Washington Free Press
1463 E. Republican #178
Seattle, WA 98112
WAfreepress@gmail.com
---
The Washington Free Press is part of the
Speak Easy Network
Stop by and visit one of Seattle's coolest web sites.
---
[Home] [WFP Index] [WFP Back Issues] [E-Mail WFP]
---

Contents this page were published in the March/April, 1998 edition of the Washington Free Press.
WFP, 1463 E. Republican #178, Seattle, WA -USA, 98112. -- WAfreepress@gmail.com
Copyright © 1998 WFP Collective, Inc.