Named the State's Best Non-Daily Newspaper by
the Washington Press Association
---

Issue Number 21 April/May 1996

---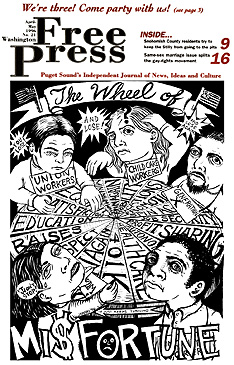 Cover Art by Jenny Schmid
Globalization! Downsizing! Stagnating wages! God help us!!

by Free Press staff
A proposed gravel pit near the Stillaguamish River has residents riled.

by Mary Ann Kae
Is the luring of pro sports teams just another form of corporate welfare?

by Nick Licata
Deregulation + consolidation = bad news for America's radiowaves.

by Norman Solomon
The issue of same-sex marriages is more complicated than you'd think.

by Richard Jackman
---
FEATURES:
Backers of proportional representation want to change the way members of the Seattle City Council are elected.
by Herm Ross
A coalition tries to bring a wider choice to the '96 election.
by Andy Bauck
A new mass-transit plan slams progress into reverse.
by Aaron Ostrom
As old-growth logging resumes on the Olympic Peninsula, mad-as-hell protesters aren't taking it anymore.
by David Atcheson and Doug Collins
---
THE REGULARS:
First Word Ideas that cut through the BS.
Reader Mail Actual letters from actual readers.
Working Of and relating to labor.
reported and compiled by Doug Collins.

EnviroWatch How humans treat their surroundings, each other, themselves.

Spike, the Rabid Media Watchdog The poop on the local information industry.

reported and compiled by Eric Nelson.

Hearing Aids Your musical guide.

Thoughts on music by Lance Davis.

Northwest Books Regional writers in review.

literary reviews by Kent Chadwick and Mark Worth

Reel Underground Your guide to experimental film.

film reviews and calendar by Paul D. Goetz.

Quotes of the Month Things people said.

Toons! [NEW!] a cartoon by Marian Henley
---
BEHIND THE SCENES:

Washington Free Press
1463 E. Republican #178
Seattle, WA 98112
WAfreepress@gmail.com
---
[Home] [WFP Index] [WFP Back Issues] [E-Mail WFP]
---

Contents on this page were published in the April/May, 1996 edition of the Washington Free Press.
WFP, 1463 E. Republican #178, Seattle, WA -USA, 98112. -- WAfreepress@gmail.com
Copyright © 1996 WFP Collective, Inc.