---

Issue Number 20 February/March 1996

---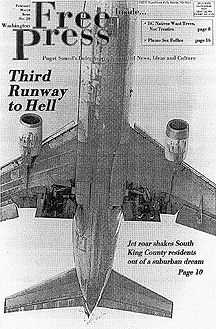 Cover Photo by P. Kylen-Mitchell
Jet roar shakes South King County residents out of a suburban dream.

by Doug Collins
"Growth for the sake of growth is the ideology of the cancer cell."

by Doug Collins
The view from Seattle.

by Lisa Moulds and Debra Salazar
BC Natives want trees, not treaties.

by Matt Robesch
Newly unionized Ste. Michelle farm workers win big.

by Andy Bauck
---
FEATURES:
Can Red & Black Books and other independent bookstores survive in a marketplace where corporate super-chains are thriving? The choice is yours...

by Mark Worth
"Hey Anus Boy, can I fondle your ball sack?"

by Carol Steele
The Tao of shameless book marketing.
by Doug Collins
---
THE REGULARS:
First Word Ideas that cut through the BS.
Mail Actual letters from actual readers.
Free Thoughts Opinions we couldn't keep to ourselves.
EnviroWatch How humans treat their surroundings, each other, themselves.
Working Of and relating to labor.
reported and compiled by Doug Collins.

Spike, the Rabid Media Watchdog The poop on the local information industry.

reported and compiled by Mark Worth.

WFP Cultural Calendar [NEW!] Things you should see and do.

Northwest Books Regional writers in review.

literary reviews by Kent Chadwick and Andy Bauck

Reel Underground Your guide to experimental film.

film reviews and calendar by Paul D. Goetz.

Free Facts The Northwest by the numbers: Canadian logging special.

Contacts [NEW!] The important names and addresses that accompany this issue's feature stories.
---
BEHIND THE SCENES:

Washington Free Press
1463 E. Republican #178
Seattle, WA 98112
WAfreepress@gmail.com
---
[Home] [WFP Index] [WFP Back Issues] [E-Mail WFP]
---

Contents on this page were published in the February/March, 1996 edition of the Washington Free Press.
WFP, 1463 E. Republican #178, Seattle, WA -USA, 98112. -- WAfreepress@gmail.com
Copyright © 1996 WFP Collective, Inc.