---

Issue Number 14 February/March 1995

---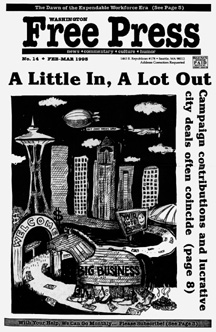 FEATURES:
Campaign contributions and lucrative city deals often coincide.
by Doug Collins
cover art by Jenny Schmid
Part-time jobs may be flexible, but they make workers even more expendable.
by Andy Bauck
Hanford clean-up is in danger of becoming a Clinton compromise.
by Eric Nelson
Will Seattle finally be getting a light rail system? That's up to us.
by Brian King and Mark Gardner
A talk with David Barsamian, founder of Alternative Radio.
interviewed by Colin Wright
---
SPECIAL:
But there will be plenty of free doughnuts.
by Jenny Schmid, Free Press Midwest Special Correspondent
Two Seattle citizens groups and their plans for reform.
by Brian King
---
THE REGULARS:
The First Word Ideas that cut through the bullshit
by Mike Blain

EnviroWatch How humans treat their surroundings, each other, themselves.

Working Of and relating to labor.

reported and compiled by Doug Collins.

Spike, the Rabid Media Watchdog The poop on the local information industry.

reported and compiled by Matt Robesch and Mark Gardner.

plus: KCMU 90.3 Mind Over Matters Schedule for February
music reviews by Lance Davis.

Northwest Books Regional writers in review.

literary reviews by Kent Chadwick and Jeff Jacobson

Reel Underground Your guide to experimental film.

film reviews and calendar by Paul D. Goetz.

This Week's Astrological Forecast
---
BEHIND THE SCENES:
---
Washington Free Press
1463 E. Republican #178
Seattle, WA 98112
WAfreepress@gmail.com
---
[Home] [WFP Index] [WFP Back Issues] [E-Mail WFP]
---

Contents on this page were published in the February/March, 1995 edition of the Washington Free Press.
WFP, 1463 E. Republican #178, Seattle, WA -USA, 98112. -- WAfreepress@gmail.com
Copyright © 1995 WFP Collective, Inc.