---

Issue Number 2 May 1993

---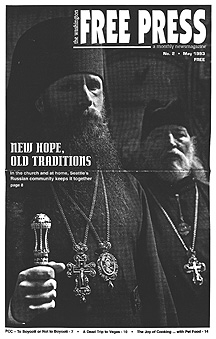 FEATURES:
Sprung by Soviet dissolution, thousands of Russian families have come to the melting pot of the Northwest. Like all newcomers, they have one foot in their new surroundings and another still implanted in their ethnic traditions.
photos and story by Neal Herbert
On the defensive over its selling of Chateau Ste. Michelle wines, Puget Consumer's Co-op faces a membership referendum over its boycott policy.
by Andrea Helm
Are you fearing the trip to loathsome Las Vegas for the upcoming Grateful Dead shows? One dose of our travel guide and you'll be all set.
by A.R. Kettle
Why go to a therapist when any laywer can tell you how much you're life is worth? They have formulas and everything.
by Mark Worth
Here's a culinary topic you'll never see on The Frugal Gourmet: The do's and dont's of buying and preparing pet food - for yourself.
by Michael Hood
---
THE REGULARS:
The First Word Ideas that cut through the BS.
Dufus of the Month Where losers are the winners.
Mail Actual letters from actual readers.
Follow File Updates of previous stories.
Free Thoughts Opinions we couldn't keep to ourselves.
Quick Hits Small stories about big news.
White Hats Local groups to the rescue.
Investigative Digest A sampling of groundbreaking news stories.
Headbangers News and ideas that scream for modulation.
Spike, the Rabid Media Watchdog The poop on the local information industry.
reported and compiled by Mark Worth and FP Staff.

Northwest Books Regional writers in review.

literary reviews by Kent Chadwick.

Free Facts The Northwest in numbers.

Quotes of the Month Things people said.

Joe Bob Briggs Syndicated columnist.
---
BEHIND THE SCENES:

Washington Free Press
1463 E. Republican #178
Seattle, WA 98112
WAfreepress@gmail.com
---
[Home] [WFP Index] [WFP Back Issues] [E-Mail WFP]
---

Contents on this page were published in the May, 1993 edition of the Washington Free Press.
WFP, 1463 E. Republican #178, Seattle, WA -USA, 98112. -- WAfreepress@gmail.com
Copyright © 1993 WFP Collective, Inc.