---

Issue Number 30 November/December 1997

---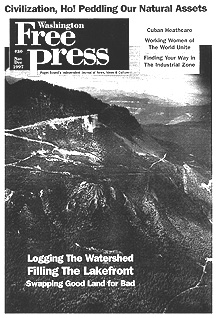 Cover photo by Mandy Merklein/Lighthawk
FEATURES:
Logging Seattle's Cedar River Water Supply

by Scott Denburg
Filling apparent wetlands for playfields at Magnuson Park.

by Anna Mockler
Watershed survey designed to make no waves.

by Doug Nufer
Despite a US blockade, Cuba has kept alive an effective healthcare system.

by John Ruhland
The little-discussed connection between the Gulf War and the Oklahoma City bombing.

by Kate Bradley
Director of the Working Women's Dept. of the AFL-CIO.

interview by Barb Wiley
---
SPECIAL:
A big story goes unreported

by Norman Solomon

[includes information on how you can receive free copies of books by Solomon]
Residents and bicyclists need a say in industrial zone planning

by Helen Wheatley
Shall we add a new category to the national census?

by Bo Richardson
Ask Elsie what's become of her life

by Peter Boritz
---
THE REGULARS:
Reader Mail Actual letters from actual readers.

Quick Hits Small stories about big news.

Working Of and relating to labor.

reported and compiled by Doug Collins.

American Newspeak Celebrating cutting edge advances in the Doublethink of the 90's.

Compiled and edited by Wayne Grytting. Spike, the Rabid Media Watchdog The poop on the local information industry.
reported and compiled by Eric Galatas and Eric Nelson

Hearing Aids Put these in the player.

comedy albums reviewed by Matt Robesch.

Northwest Books Regional writers in review.

literary reviews by Kent Chadwick and Sarah Sarai.

Reel Underground Your guide to independent film.

film reviews and calendar by Paul D. Goetz.
---
BEHIND THE SCENES:

Washington Free Press
1463 E. Republican #178
Seattle, WA 98112
WAfreepress@gmail.com
---
The Washington Free Press is part of the
Speak Easy Network
Stop by and visit one of Seattle's coolest web sites.
---
[Home] [WFP Index] [WFP Back Issues] [E-Mail WFP]
---

Contents this page were published in the November/December, 1997 edition of the Washington Free Press.
WFP, 1463 E. Republican #178, Seattle, WA -USA, 98112. -- WAfreepress@gmail.com
Copyright © 1997 WFP Collective, Inc.