---

Issue Number 29 September/October 1997

---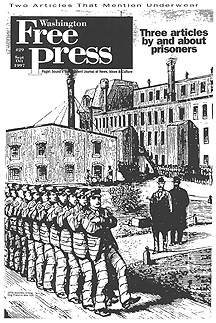 FEATURES:
Three perspectives on the expanding prison industry.

by Free Press contributors
America's new sub-minimum wage underclass

by Ray Goforth
Families and Education Levy up for renewal.

by Rebecca Kavoussi
WFP picks in the six key Seattle races.

by Free Press staff
Northwesterners help stop death squad attacks.

by Joe Sperry
---
SPECIAL:
Bush's post-Presidential activities benefit Rev. Moon.

by Norman Solomon

[includes information on how you can receive free copies of books by Solomon]
Ross Gelbspan's new book turns up the heat.

interview by Patrick Mazza
West Coast-based comic brings his political eye to Seattle in October

interview by Matt Robesch
Chronically unemployed? Get a job as a career counselor!

by J. Pleh
---
THE REGULARS:
Reader Mail Actual letters from actual readers.
Working Of and relating to labor.
reported and compiled by Doug Collins.

American Newspeak Orwellian language and euphemism in corporate media.

Compiled and edited by Wayne Grytting. Spike, the Rabid Media Watchdog The poop on the local information industry.
reported and compiled by John Gorrell and Doug Nufer

Northwest Books Regional writers in review.

literary reviews by Kent Chadwick and Cydney Gillis.

Reel Underground Your guide to experimental film.

film reviews and calendar by Paul D. Goetz and Lori Wahlers

Cartoon Page 'Toons by Marian Henley and Matt Wuerker.
---
BEHIND THE SCENES:

Washington Free Press
1463 E. Republican #178
Seattle, WA 98112
WAfreepress@gmail.com
---
The Washington Free Press is part of the
Speak Easy Network
Stop by and visit one of Seattle's coolest web sites.
---
[Home] [WFP Index] [WFP Back Issues] [E-Mail WFP]
---

Contents this page were published in the September/October, 1997 edition of the Washington Free Press.
WFP, 1463 E. Republican #178, Seattle, WA -USA, 98112. -- WAfreepress@gmail.com
Copyright © 1997 WFP Collective, Inc.