---

Issue Number 26 March/April 1997

---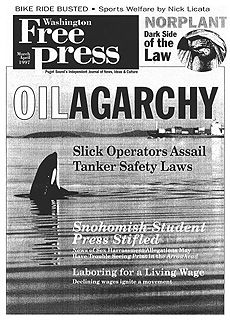 Cover photo by Fred Felleman and Beth Miller
FEATURES:
Tanker Companies Resist Efforts to Safeguard Washington Waters from Oil Spills.

by Fred Felleman, MSc
Is a womb of one's own a thing of the past in Washington?

by Rebecca Kavoussi
Seattle police seem to consider bicyclists the new public safety problem.

by Karen Johanson
News of sex harrassment allegations may have trouble seeing print in the Arrowhead.

by Natalia Jenkins
---
SPECIAL:
Declining wages and the inadequacy of the Federal minimum wage have ignited a movement around the country to raise local wages.

by Mark Gardner
When "Economic Freedom" Bars Chewing Gum.

by Norman Solomon
Thinly veiled sarcasm.

by Doug Collins
---
THE REGULARS:
The First Word Ideas that cut through the BS.
by Doug Nufer

Reader Mail Actual letters from actual readers.

Free Thoughts Stadium opinions we couldn't keep to ourselves.

by Nick Licata and Doug Nufer.

Working Of and relating to labor.

reported and compiled by Doug Collins.

American Newspeak Orwellian language and euphemism in corporate media.

Compiled and edited by Wayne Grytting.

Right Brain WFP's guide for the other half of your head.

arts review and cultural commentary by Doug Nufer.

Northwest Books Regional writers in review.

literary reviews by Kent Chadwick.

Reel Underground Your guide to experimental film.

film reviews and calendar by Paul D. Goetz.

Cartoon by Matt Wuerker.
---
BEHIND THE SCENES:

Washington Free Press
1463 E. Republican #178
Seattle, WA 98112
WAfreepress@gmail.com
---
The Washington Free Press is part of the
Speak Easy Network
Stop by and visit one of Seattle's coolest web sites.
---
[Home] [WFP Index] [WFP Back Issues] [E-Mail WFP]
---

Contents on this page were published in the March/April, 1997 edition of the Washington Free Press.
WFP, 1463 E. Republican #178, Seattle, WA -USA, 98112. -- WAfreepress@gmail.com
Copyright © 1997 WFP Collective, Inc.