---

Issue Number 24 November/December 1996

---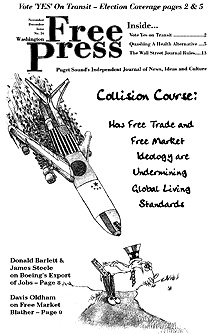 Cover Art by Jeff Weedman
Free trade and free market ideology undermine living standards.

articles by Donald Barlett & James Steele

and Davis Oldham
---
Alternative health proponents meet the insurance empire.

by Lisa Cheval
A regional off-road transit plan is long over due in the Seattle area, a 'yes' vote on the RTA plan is in everyone's best interest.

by Walt Crowley
Those zany things this election's Republican gubernatorial
candidate did when she was but a wee zealot in the State Legislature.

by Mark Gardner
---
FEATURES:
Union tradition alive and kicking at the Lincoln Park Mini Market.

by John Persak
Central Intelligence operatives turn a blind eye to cocaine trafficking.

by Norman Solomon
Alan Durning brings Worldwatch attitude to the Northwest.

interviewed by Mark Gardner
The Wall Street Journal still rules.

by Doug Nufer
Review of "Nirvana: Capitalism and the Consumed Image" at CoCA.

by Laura Lee Bennett
An Immigrant Explains the Origin of an English Idiom.

fictional humor by Chieu Toan
---
THE REGULARS:
Reader Mail Actual letters from actual readers.
EnviroWatch How humans treat their surroundings, each other, themselves.
Working Of and relating to labor.
reported and compiled by Doug Collins.

Spike, the Rabid Media Watchdog The poop on the local information industry.

Special listing of the Seattle-area alternative media cabal!

Northwest Books Regional writers in review.

literary reviews by Kent Chadwick and Robert C. Pavlik

Reel Underground Your guide to experimental film.

film reviews and calendar by Paul D. Goetz.
---
BEHIND THE SCENES:

Washington Free Press
1463 E. Republican #178
Seattle, WA 98112
WAfreepress@gmail.com
---
[Home] [WFP Index] [WFP Back Issues] [E-Mail WFP]
---

Contents on this page were published in the November/December, 1996 edition of the Washington Free Press.
WFP, 1463 E. Republican #178, Seattle, WA -USA, 98112. -- WAfreepress@gmail.com
Copyright © 1996 WFP Collective, Inc.