Named the State's Best Non-Daily Newspaper by
the Washington Press Association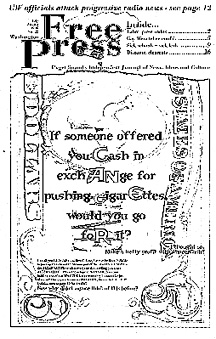 Cover Art by Margaret Flynn and Georgi Page
RJ Reynolds dangles the big bucks to attract Seattle's Twenty-something hipsters.

by Mark Worth
Washington's labor and reform scribes left a rich legacy.

by Carlos Schwantes
A report on the recent Gay Activism Conference in Wenatchee

by Richard Jackman
Why is toxic soup on the menu at Bainbridge Island schools?

by Diana Tener
UW officials lower the boom on KCMU's progressive news show.

by Mark Worth
Many loggers have chainsaws in one hand and government hand outs in the other.

by David Atcheson
---
FEATURES:
U.S. role in suppressing the Chiapas rebellion has stayed in the shadows.

by Norman Solomon
Here's what you can do to put Ralph Nader on the WA State Presedential ballot.
by Free Press staff
When Ambro met Robo-Candidate

by John Ambrosavage
Review of the Baffler magazine from Chicago.
by Doug Nufer
Listen to Jim Page and watch documentaries in support of the WFP and Earth On the Air Independent Media.
---
THE REGULARS:
Reader Mail Actual letters from actual readers.
Follow File Updates of past WFP stories.
Working Of and relating to labor.
reported and compiled by Doug Collins.

EnviroWatch How humans treat their surroundings, each other, themselves.

Spike, the Rabid Media Watchdog The poop on the local information industry.

reported and compiled by Eric Nelson.

Northwest Books Regional writers in review.

literary review by Kent Chadwick

Video Views Things you can rent at the video store.

Reel Underground Your guide to experimental film.

film reviews and calendar by Paul D. Goetz.

Toons! a cartoon by Marian Henley
---
BEHIND THE SCENES:

Washington Free Press
1463 E. Republican #178
Seattle, WA 98112
WAfreepress@gmail.com
---
[Home] [WFP Index] [WFP Back Issues] [E-Mail WFP]
---

Contents on this page were published in the July/August, 1996 edition of the Washington Free Press.
WFP, 1463 E. Republican #178, Seattle, WA -USA, 98112. -- WAfreepress@gmail.com
Copyright © 1996 WFP Collective, Inc.