---

Issue Number 12 October/November 1994

---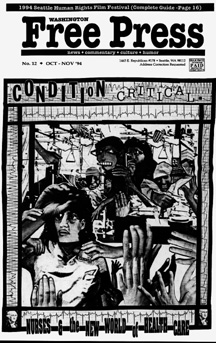 FEATURES:
Changes in the health care industry are dramatically impacting the work climate and job stability for nurses.
by Tracy DeCroce
photos by Greg Stempel, cover art by Christina Sporrong
Commentary.
by Brian King
In the land of Northern Exposure, it's the Community vs. the County Officials and the Timber Companies.
by Holly Borba
Revitalizing Politics in Washington State.
guest columns by by Beth Doglio (WEnPAC) and Rick Bender (WSLC).
Reverend Robert Jeffrey talks to the Free Press about his project Campaign 5000.
interview by Bill Lyons
---
SPECIAL:
...has it helped Seattle at all?
by Brian King
WFP picks the best of the pack.
recommendations of the Free Press staff
Not the way things ought to be, just the way things are...
humor by John Ambrosavage.
---
THE REGULARS:
Mail Actual letters from actual readers.
Free Thoughts Opinions we couldn't keep to ourselves.
Follow File Updates of past WFP stories.
Working Of and relating to labor.
reported and compiled by Doug Collins.

Free Facts The Northwest in numbers.

Spike, the Rabid Media Watchdog The poop on the local information industry.

reported and compiled by Free Press staff.

Northwest Books Regional writers in review.

literary review by Kent Chadwick.

Reel Underground Your guide to the 1994 Seattle Human Rights Film Festival

film reviews and calendar by Matt Robesch and Jaxon Brooks.
---
BEHIND THE SCENES:
---
Washington Free Press
1463 E. Republican #178
Seattle, WA 98112
WAfreepress@gmail.com
---
[Home] [WFP Index] [WFP Back Issues] [E-Mail WFP]
---

Contents on this page were published in the October/November, 1994 edition of the Washington Free Press.
WFP, 1463 E. Republican #178, Seattle, WA -USA, 98112. -- WAfreepress@gmail.com
Copyright © 1994 WFP Collective, Inc.