"The truth is the truth, or the truth is surely a lie."
---

Issue Number 8 February/March 1994

---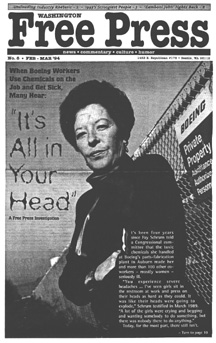 A Free Press Investigation:
"It's All In Your Head"
Hundreds, perhaps thousands, of Boeing workers say they've been sickened by the chemicals used at Boeing plants throughout Puget Sound. But instead of giving these workers the medical and financial help they need, Boeing- with the help of its connections within state government and the medical establishment- is saying many workers just have psychological problems. We'll tell you how Boeing has been getting away with this, and why it should stop.

cover photo of Faye Schrum by Neal Herbert

Boeing to Ill Workers: "It's All In Your Head"


by Eric Nelson and Mark Worth

photos by Neal Herbert

research assistance by Andrea Helm
Suicide Solution - One Woman's Way Out

by Mark Worth
Disunity Among the Machinists

by Mark Worth
The MCS Debate: A Medical Streetfight

by Eric Nelson
Disorder in the Court
On Top of Everything Else, Sick Boeing Workers Face Judicial Hurdles.

by Eric Nelson
Resources

WFP readers respond to these articles.
---
FEATURES:
Ole' Ebeneezer had nothin' on the folks who made our list of Scrooges of the Year for 1993. It's greed, Seattle style.
by Mike Blain and Doug Collins
High-flying John Scannell may have been more popular than most of the Thunderbird hockey players. But to Seattle Center management, 'Zamboni John' was a whistleblowing pain in the ass who had to go.
by Tracy DeCroce
This radical journalist-turned-jet city chronicler talks about his past and Seattle's future.
interview by David Hirning
---
THE REGULARS:
The First Word Ideas that cut through the bullshit.
by Mark Gardner

Mail Actual letters from actual readers.

Free Thoughts Opinions we couldn't keep to ourselves.

Follow File Updates of past WFP stories.

Quick Hits Small stories about big news.

Working Of and relating to labor.

reported and compiled by Doug Collins.

PolicyWatch A new section to elevate the debate over pending issues beyond the surface level.

Spike, the Rabid Media Watchdog The poop on the local information industry.

reported and compiled by Mark Worth and FP Staff.

Northwest Books Regional writers in review.

literary review by Kent Chadwick.

Reel Underground Your guide to experimental film.

music reviews compiled by Marshall Gooch.

Bad Bus Poetry Live actual poetry as seen on a live actual Metro bus.

Free Facts The Northwest in numbers.
---
BEHIND THE SCENES:
---
Washington Free Press
1463 E. Republican #178
Seattle, WA 98112
WAfreepress@gmail.com
---
[Home] [WFP Index] [WFP Back Issues] [E-Mail WFP]
---

Contents on this page were published in the February/March, 1994 edition of the Washington Free Press.
WFP, 1463 E. Republican #178, Seattle, WA -USA, 98112. -- WAfreepress@gmail.com
Copyright © 1994 WFP Collective, Inc.