---

Issue Number 5 September 1993

---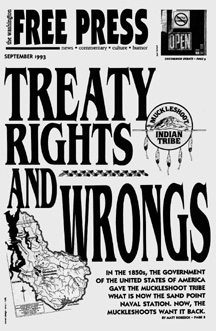 FEATURES:
More than 125 years after the treaty ink dried, the Muckleshoot Tribe is fighting to win back land that white America knows as the Sand Point Naval Base.
by Matt Robesch

cover design by Amy R. Tullis
Developers and the media want you to think that the Seattle Commons project is a done deal. Here are some reasons why they're full of their own crap.
by Mark Gardner
Sorry, but a $20 million line of credit from a Microsoft millionaire does not qualify as grass roots organizing. Don't believe the hype.
by David Hirning
The management at Seattle's Daniel Smith art supply company seem to have Labor Day confused with a holiday that their workers don't know about.
by Mike Blain
Eschewing Newtonian-based science, Robert Gilman of Bainbridge Island's Context Institute has a new mission: telling the world why the future - our future - is now.
interview by Mark Worth
---
SPECIAL:
Just in time for the primary.
by Free Press Staff
Pooches protecting people.
by Marshall Gooch
Desperate, horny men will say anything to get a woman into the sack. We've got some classic lines, courtesy of The Stranger personals. And it won't cost you a cent to hear them.
Raising Hopes for Seattle Theater.
by Brad Warren
---
THE REGULARS:
Be Our Guest Guest columnists tell it like it is.
Mail Actual letters from actual readers.
Free Thoughts Opinions we couldn't keep to ourselves.
Follow File Updates of past WFP stories.
Quick Hits Small stories about big news.
Investigative Digest A sampling of groundbreaking news stories.
Working Of and relating to labor.
reported and compiled by Doug Collins.

Spike, the Rabid Media Watchdog The poop on the local information industry.

reported and compiled by Mark Worth and FP Staff.

Northwest Books Regional writers in review.

literary reviews by Kent Chadwick and Doug Lauen.
music reviews compiled by Marshall Gooch.

Real Life Stories from the street.

Presenting the debut of our new staff catoonist, John Ambrosavage.

Free Facts The Northwest in numbers.
---
BEHIND THE SCENES:

Washington Free Press
1463 E. Republican #178
Seattle, WA 98112
WAfreepress@gmail.com
---
[Home] [WFP Index] [WFP Back Issues] [E-Mail WFP]
---

Contents on this page were published in the September , 1993 edition of the Washington Free Press.
WFP, 1463 E. Republican #178, Seattle, WA -USA, 98112. -- WAfreepress@gmail.com
Copyright © 1993 WFP Collective, Inc.