---

Issue Number 4 July/August 1993

---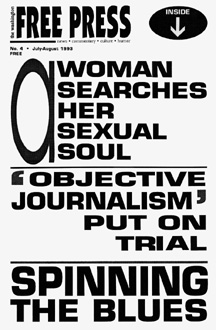 FEATURES:
Taken off the beat because of her political activism, reporter Sandy Nelson wants more than just her job back. She's out to expose the lie of 'objective journalism.'
by Mark Worth
Though rich in talent, the founders of Axiom Records have learned some hard lessons on the road to musical nirvana.
by Georgia Steele
Seattle's music and law-enforcement community come together to find out who killed The Gits' Mia Zapata
by Marshall Gooch
Battling prejudice, Reaganism and constant grieving, the Chicken Soup Brigade's leader sooths those living with HIV/AIDS.
interviewed by Keeyan York
Hardened by the reality of being a single woman in the '90s, one author pushes her sexual boundaries.
by Andrea Helm
---
SPECIAL:
Cereal prices these days - they're G-RRRR-OOOO-SSSS!!.
by Mike Blain
SPD rejects auditor's ideas to improve investigations of cop misconduct.
by Mark Worth
Planet unknown.
by Andrea Helm
Popularity and the politics of butt-wiping.
by Dean Swanson
---
THE REGULARS:
The First Word Ideas that cut through the BS.
Mail Actual letters from actual readers.
Free Thoughts Opinions we couldn't keep to ourselves.
Follow File Updates of past WFP stories.
Quick Hits Small stories about big news.
Investigative Digest A sampling of groundbreaking news stories.
Working Of and relating to labor.
reported and compiled by Doug Collins.

White Hats Local groups to the rescue.

Spike, the Rabid Media Watchdog The poop on the local information industry.

reported and compiled by Mark Worth and FP Staff.

Reel Underground Your guide to experimental film.

On Latex Reviews you can use.

Quotes of the Month Things people said.

Free Facts The Northwest in numbers.

Joe Bob Briggs Syndicated columnist.

Sig & Martha Cartoons!
---
BEHIND THE SCENES:

Washington Free Press
1463 E. Republican #178
Seattle, WA 98112
WAfreepress@gmail.com
---
[Home] [WFP Index] [WFP Back Issues] [E-Mail WFP]
---

Contents on this page were published in the July/August, 1993 edition of the Washington Free Press.
WFP, 1463 E. Republican #178, Seattle, WA -USA, 98112. -- WAfreepress@gmail.com
Copyright © 1993 WFP Collective, Inc.