---

Issue Number 3 June 1993

---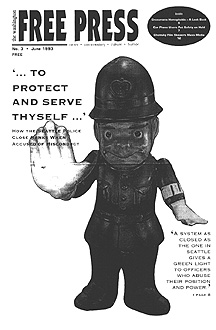 FEATURES:
Police officers are among the only people in the country authorized to use deadly force against citizens. But in Seattle, they enjoy virtual immunity from outside oversight. Why?
by Mark Worth
Seattle voters came dangersously close to tossing out gay-rights laws 15 years ago. What's changed since then?
by Diana Schiefelbein
When phone meets car and driver, something has to give. Try safety.
by Mike Blain
The newest president of the King County Bar Association is no establishmentarian. Theiler explains why.
interviewed by Andrea Helm
Thinking about making a quick buck on a fish processing boat? Hold your breath!
photos and story by Christina Sporrong
---
THE REGULARS:
The First Word Ideas that cut through the BS.
Dufus of the Month Where losers are the winners.
Mail Actual letters from actual readers.
Free Thoughts Opinions we couldn't keep to ourselves.
Working Of and relating to labor.
reported and compiled by Doug Collins.
reported and compiled by Mark Worth and FP Staff.

Quotes of the Month Things people said.

Northwest Books Regional writers in review.

literary reviews by Kent Chadwick.

Free Facts The Northwest in numbers.

Joe Bob Briggs Syndicated columnist.
---
BEHIND THE SCENES:

Washington Free Press
1463 E. Republican #178
Seattle, WA 98112
WAfreepress@gmail.com
---
[Home] [WFP Index] [WFP Back Issues] [E-Mail WFP]
---

Contents on this page were published in the June, 1993 edition of the Washington Free Press.
WFP, 1463 E. Republican #178, Seattle, WA -USA, 98112. -- WAfreepress@gmail.com
Copyright © 1993 WFP Collective, Inc.