---

Issue Number 28 July/August 1997

---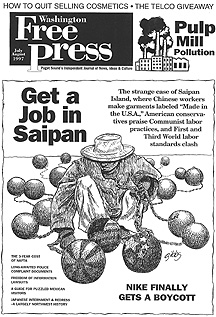 Cover illustration by Jim Gibbs
FEATURES:
The story of Saipan, where labor abuses flourish under the U.S. flag.

by Phil Kaplan
Seattle slumps toward the future with little more than inertia and smugness to guide it.

by Mark Gardner
Environmental groups experience secret surveillance and strategic lawsuits.

by Natalie Shapiro
The untold stories of day-to-day police misconduct.

by Doug Collins
A boycott on labor issues is officially begun.

by Richard Thorsten
---
SPECIAL:
Take NAFTA's glowing reviews with a grain of salt.

by Norman Solomon

[includes information on how you can receive free copies of books by Solomon]
Big organizations attract lawsuits over difficult public-records access.

by Doug Collins
Federal Nonprofits can be more trouble than they're worth.

by Doug Nufer
A guide for puzzled Mexicans.

by Jonathon Gallant and Lorenzo Milam
---
THE REGULARS:
Free Thoughts The Red Herring Phenomenon
by John Bennett.

Reader Mail Actual letters from actual readers.

EnviroWatch How humans treat their surroundings, each other, themselves.

Working Of and relating to labor.

reported and compiled by Doug Collins.

American Newspeak Orwellian language and euphemism in corporate media.

Compiled and edited by Wayne Grytting. Spike, the Rabid Media Watchdog The poop on the local information industry.
reported and compiled by Steven Hill and Eric Nelson

Northwest Books Regional writers in review.

literary reviews by Kent Chadwick and Robert Pavlik.

Reel Underground Your guide to independent film.

film reviews and calendar by Paul D. Goetz.

Cartoon Page 'Toons by John Ambrosavage, Matt Wuerker, and Ron & Emily Austin.
---
BEHIND THE SCENES:

Washington Free Press
1463 E. Republican #178
Seattle, WA 98112
WAfreepress@gmail.com
---
The Washington Free Press is part of the
Speak Easy Network
Stop by and visit one of Seattle's coolest web sites.
---
[Home] [WFP Index] [WFP Back Issues] [E-Mail WFP]
---

Contents this page were published in the July/August, 1997 edition of the Washington Free Press.
WFP, 1463 E. Republican #178, Seattle, WA -USA, 98112. -- WAfreepress@gmail.com
Copyright © 1997 WFP Collective, Inc.