---

Issue Number 19 December 1995/January 1996

---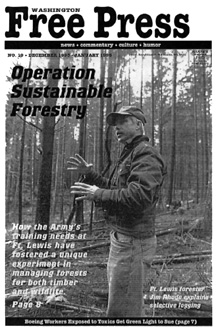 A Free Press Special Focus on Forestry:
Stories by Mike Blain
Cover Photo by P. Kylen-Mitchell
Don't Believe the hype. There are better ways to log a forest.
Operation Sustainable Forestry

How the Army's training needs at Ft. Lewis helped to create a thriving experiment in ecosystem management.
Coming Soon to a Store Near You: 'Certified' Wood

Just as some people are willing to pay more for organically grown foods, many consumers are now looking for wood grown in sustainable forests.
---
It's time to give up the "American way of life."

by David Hirning
Tired of working so much? Quit spending so much, stupid.

by Matt Robesch
Boeing employees exposed to toxics will get their day in court.

by Eric Nelson
Critics say Boeing "is punching holes in America's future" by shipping thousands of jobs abroad.

by Eric Nelson and Mark Worth
---
FEATURES:
An interview with Stephanie Coontz, author of The Way We Never Were: American Families and the Nostalgia Trap.

by Kent Chadwick
Excerpts from an American Civil Liberties Union report entitled The Religious Right in Washington.
---
SPECIAL:
Accident focuses attention on North Pole Productions labor dispute.
by Mike Blain
---
THE REGULARS:
Mail Actual letters from actual readers.
Free Thoughts Opinions we couldn't keep to ourselves.
EnviroWatch How humans treat their surroundings, each other, themselves.
Working Of and relating to labor.
reported and compiled by Mark Gardner.

Spike, the Rabid Media Watchdog The poop on the local information industry.

reported and compiled by Free Press Staff.
music reviews by Lance Davis.

Northwest Books Regional writers in review.

literary review by Kent Chadwick

Reel Underground Your guide to experimental film.

film reviews and calendar by Paul D. Goetz.
---
BEHIND THE SCENES:

Washington Free Press
1463 E. Republican #178
Seattle, WA 98112
WAfreepress@gmail.com
---
[Home] [WFP Index] [WFP Back Issues] [E-Mail WFP]
---

Contents on this page were published in the December/January, 1996 edition of the Washington Free Press.
WFP, 1463 E. Republican #178, Seattle, WA -USA, 98112. -- WAfreepress@gmail.com
Copyright © 1996 WFP Collective, Inc.