---

Issue Number 18 October/November 1995

---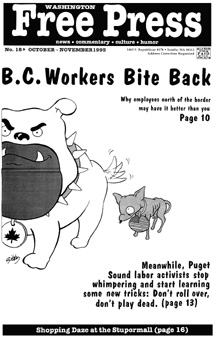 A Free Press Special Edition:
Focus on Labor
Cover Art by Jim Gibbs
Go North, Young Worker!
Progressive politics and strong unions help to make B.C. a better place for workers.

by Doug Collins and Gloria Hubacker

Laidlaw to Seattle School Bus-Drivers:
Go to the Back, Sit Down and Shut Up
Drivers' best hope for getting a pension plan now lies with the Seattle School District.


by Gloria Hubacker and Doug Collins

Slaves of the State
Prison laborers do time in factories with fences.


by Paul Wright

Seattle Activists Kick Off Labor Party Effort


by Mike Blain

Teachers Work to Revive Labor Education


by Stephanie Tate
---
FEATURES:
Environmental politics in the Year of the Newt.
by Roger Brian Valdez
Guerrilla eco-scientist shakes up the nuclear establishment.
by Eric Nelson
The Free Press ventures into the Mall to End All Malls
by Mike Blain
---
SPECIAL:
Know the issues at stake and consider these endorsements.
by Free Press staff
This year's festival runs October 20th to November 18th at various Seattle venues. Here is the complete schedule.
It's time for a green parking policy in Seattle.
by Hill, Schiller, and Ferro
We all live downwind.
by Colleen Kelly
WFP's resident humorist ponders the supreme being.
by John Ambrosavage
---
THE REGULARS:
Mail Actual letters from actual readers.
Free Thoughts Opinions we couldn't keep to ourselves.
Quick Hits Small stories about big news.
EnviroWatch How humans treat their surroundings, each other, themselves.
Working Of and relating to labor.
reported and compiled by Doug Collins.

Spike, the Rabid Media Watchdog The poop on the local information industry.

reported and compiled by Free Press Staff.
music reviews by Lance Davis.

Northwest Books Regional writers in review.

literary reviews by Doug Collins and Doug Baker

Reel Underground Your guide to experimental film.

film reviews and calendar by Paul D. Goetz.
---
BEHIND THE SCENES:

Washington Free Press
1463 E. Republican #178
Seattle, WA 98112
WAfreepress@gmail.com
---
[Home] [WFP Index] [WFP Back Issues] [E-Mail WFP]
---

Contents on this page were published in the October/November, 1995 edition of the Washington Free Press.
WFP, 1463 E. Republican #178, Seattle, WA -USA, 98112. -- WAfreepress@gmail.com
Copyright © 1995 WFP Collective, Inc.