---

Issue Number 16 June/July 1995

---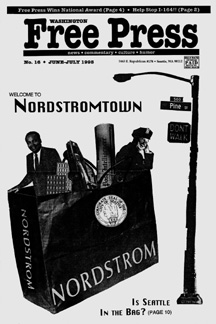 The First Word:

Unless we all act now, the most extreme anti-environmental "property rights" measure in the history of the nation will become law in Washington state.
by Free Press staff
---
FEATURES:
Cover Art by Doug Collins
Critics charge that Seattle is offering too much customer service to Nordstrom.
by Doug Collins
Group Health downsizes, profits soar...
by Stephanie Tate
Jobs With Justice: On the frontline against deteriorating working conditions.
by Brian King
Report and polemic from the Arts and Education Conference.
by Gregory Nissen
An interview with UW First Ammendment Specialist Don Pember.
interview by D. Rush Allison
---
SPECIAL:
Paranoid and delusional ramblings just in the nick of time.
by Matt Robesch
---
THE REGULARS:
Mail Actual letters from actual readers.
Free Thoughts Opinions we couldn't keep to ourselves.
EnviroWatch How humans treat their surroundings, each other, themselves.
Working Of and relating to labor.
reported and compiled by Doug Collins.

Spike, the Rabid Media Watchdog The poop on the local information industry.

reported and compiled by Matt Robesch and Free Press Staff.

Northwest Books Regional writers in review.

literary review by Kent Chadwick.
music reviews by Lance Davis.

Reel Underground Your guide to experimental film.

film reviews and calendar by Paul D. Goetz.
---
BEHIND THE SCENES:
---
Washington Free Press
1463 E. Republican #178
Seattle, WA 98112
WAfreepress@gmail.com
---
[Home] [WFP Index] [WFP Back Issues] [E-Mail WFP]
---

Contents on this page were published in the June/July, 1995 edition of the Washington Free Press.
WFP, 1463 E. Republican #178, Seattle, WA -USA, 98112. -- WAfreepress@gmail.com
Copyright © 1995 WFP Collective, Inc.