---

Issue Number 13 December 1994/January 1995

---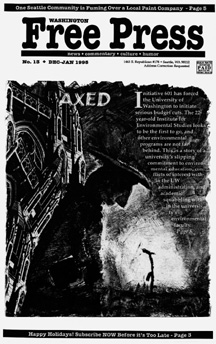 FEATURES:
University of Washington administrators want the world to think their plan to eliminate the school's Environmental Studies Institute is just a monetary decision. Think again...
by Mark Worth and Mark Gardner
photos by Neal Herbert, cover art by Christina Sporrong
Seattle zoning laws were massaged to allow a commercial painting facility to operate in a residential neighborhood
story and photo by Mike Blain
Revitalizing Politics in Washington State.
guest column by Washington State Senator Cal Anderson.
Seattle Police Chief Norm Stamper talks to the Free Press about community policing and Seattle law enforcement.
interview, plus additional commentary, by Bill Lyons
---
SPECIAL:
Election '94 catches reformists napping: Three perspectives on the election from hell.
columns from Mark Gardner, Brian King, and Matt Robesch.
When Bill Gates' dad throws a party, does the richest man in America have to help clean up?
humor by John Ambrosavage.
---
THE REGULARS:
Mail Actual letters from actual readers.
EnviroWatch How humans treat their surroundings, each other, themselves.
Working Of and relating to labor.
reported and compiled by Doug Collins.

Free Facts The Northwest in numbers.

Spike, the Rabid Media Watchdog The poop on the local information industry.

reported and compiled by Matt Robesch and Mark Gardner.
music reviews by Lance Davis.

Northwest Books Regional writers in review.

literary review by Kent Chadwick.

Reel Underground Your guide to experimental film.

film reviews and calendar by Paul D. Goetz.

Exciting Contest, Prizes Still Available!
---
BEHIND THE SCENES:
---
Washington Free Press
1463 E. Republican #178
Seattle, WA 98112
WAfreepress@gmail.com
---
[Home] [WFP Index] [WFP Back Issues] [E-Mail WFP]
---

Contents on this page were published in the December/January 1995 edition of the Washington Free Press.
WFP, 1463 E. Republican #178, Seattle, WA -USA, 98112. -- WAfreepress@gmail.com
Copyright © 1994 WFP Collective, Inc.