"The truth is the truth, or the truth is surely a lie."
---

Issue Number 6 October/November '93

---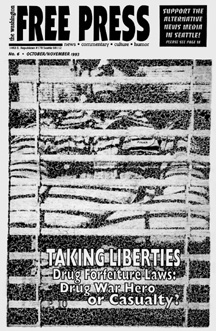 FEATURES:
Even with an ex-dope smoker in the White House, the government will still take your money and property if it thinks you're a drug dealer. But a whiff of reform is in the air.
by Daniel Johnson

cover photo by Neal Herbert
The imprisoned and possibly framed Native American leader was The Evergreen State College's commencement speaker. Here's what he said.
by Matt Robesch
It's a good thing that people around the country aren't basing Seattle's liberal reputation on what's going on right now.
by Mark Gardner
Believe it or not, our friends at Hanford want to get rid of radioactive waste by creating more of it. And also some plutonium while they're at it. (We're not making this up.)
by Eric Nelson
The founders of Seattle's New Road Map Foundation tell us how to have a better life with less money.
interview by Neal Herbert
You know it. You love it. You hate it. You can't live without it.
photos and story by Neal Herbert
---
SPECIAL:
Who/What to vote for and why.
Send us your nominations for "Scrooge of the Year".
Participate in the WFP Reader's Poll
---
THE REGULARS:
Mail Actual letters from actual readers.
Be Our Guest Guest columnists tell it like it is.
Free Thoughts Opinions we couldn't keep to ourselves.
Follow File Updates of past WFP stories.
Investigative Digest A sampling of groundbreaking news stories.
Working Of and relating to labor.
reported and compiled by Doug Collins.

Spike, the Rabid Media Watchdog The poop on the local information industry.

reported and compiled by Mark Worth and FP Staff.

EnviroWatch How humans treat their surroundings, each other, themselves.

Northwest Books Regional writers in review.

literary review by Kent Chadwick.

Reel Underground Your guide to experimental film.

music reviews compiled by Marshall Gooch.

Free Facts The Northwest in numbers.
BEHIND THE SCENES:
---
Washington Free Press
1463 E. Republican #178
Seattle, WA 98112
WAfreepress@gmail.com
---
[Home] [WFP Index] [WFP Back Issues] [E-Mail WFP]
---

Contents on this page were published in the October/November, 1993 edition of the Washington Free Press.
WFP, 1463 E. Republican #178, Seattle, WA -USA, 98112. -- WAfreepress@gmail.com
Copyright © 1993 WFP Collective, Inc.