---

Issue Number 1 April 1993

---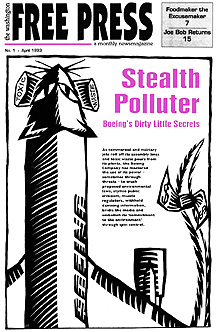 FEATURES:
Boeing Watchers tell how a world-class airplane maker stays on top by being a world-class silencer of opposition, stifler of environmental reforms and bane of regulators.
by Mark Worth
The Ultimate 'Solution' for the Elderly.
by Ruby Steele
Beat the Recession! Vent Your Anger! Complain to a Large Corporation!
Jeans for Seafirst Employees? Don't Bank on It.
by Mark Worth
Jack in the Box's Corporate Recipe: Heavy on the Excuses, Hold the Regulations.
by Ben Tansey
---
THE REGULARS:
The First Word Ideas that cut through the BS.
Dufus of the Month Where losers are the winners.
Free Thoughts Opinions we couldn't keep to ourselves.
Stupid Cop Tricks COPS (screw up) IN SEATTLE.
Free Facts The Northwest in numbers.
Spike, the Rabid Media Watchdog The poop on the local information industry.
reported and compiled by Mark Worth and FP Staff.

Northwest Books Regional writers in review.

literary reviews by Kent Chadwick.

Photo Essay Mardi Gras, New Orleans [under construction]

Joe Bob Briggs Syndicated columnist.

Comics
---
BEHIND THE SCENES:

Washington Free Press
1463 E. Republican #178
Seattle, WA 98112

WAfreepress@gmail.com
---
[Home] [WFP Index] [WFP Back Issues] [E-Mail WFP]
---

Contents on this page were published in the April, 1993 edition of the Washington Free Press.
WFP, 1463 E. Republican #178, Seattle, WA -USA, 98112. -- WAfreepress@gmail.com
Copyright © 1993 WFP Collective, Inc.