---

Issue Number 31 January/February 1998

---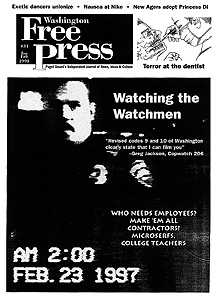 Cover videostill courtesy of Copwatch
Cover Story: Central District Activism
Copwatch 206 patrols the CD.

by Georgi Page
More than just a punchline for cop shows.

by Doug Nufer
Volunteer group at odds with authorities.

by Laura Bierce
Dialogue Stalled at African American Heritage Museum

by Georgi Page
---
FEATURES:
Seattle's independent press carried the Nordstrom/HUD story for years while the dailies looked the other way.

by Mark Gardner
Green Party uses a new tactic to make electoral waves.

by Rob Richie & Steven Hill
Bad dentistry is more serious than most Americans realize.

by Marjorie Rhodes
A five-step recipe for improving worker rights worldwide.

by John Gorrell
---
SPECIAL:
Last year's black sextuplets didn't receive free jeeps.

by Norman Solomon

[includes information on how you can receive free copies of books by Solomon]
Lawsuits filed in WA State and Minnesota; Labor Union formed in California.

by Rebecca Kavoussi
Swoosh versus Just Do It

by Doug Nufer
A New Age group gets gooey over Diana hype.

by Fredrika Sprengle
---
THE REGULARS:
Free Thoughts Department of Management's Lackeys?
by National Writers Union.

Reader Mail Actual letters from actual readers.

EnviroWatch How humans treat their surroundings, each other, themselves.

Working Of and relating to labor.

reported and compiled by Doug Collins.

American Newspeak Orwellian language and euphemism in corporate media.

Compiled and edited by Wayne Grytting. Spike, the Rabid Media Watchdog The poop on the local information industry.
reported and compiled by J. Bonasia and Eric Nelson

Northwest Books Regional writers in review.

literary reviews by Kent Chadwick.

Reel Underground Your guide to independent film.

film reviews and calendar by Paul D. Goetz.

Cartoon Page 'Toons by Gordon Anderson and Ron & Emily Austin.
---
BEHIND THE SCENES:

Washington Free Press
1463 E. Republican #178
Seattle, WA 98112
WAfreepress@gmail.com
---
The Washington Free Press is part of the
Speak Easy Network
Stop by and visit one of Seattle's coolest web sites.
---
[Home] [WFP Index] [WFP Back Issues] [E-Mail WFP]
---

Contents this page were published in the January/February, 1998 edition of the Washington Free Press.
WFP, 1463 E. Republican #178, Seattle, WA -USA, 98112. -- WAfreepress@gmail.com
Copyright © 1998 WFP Collective, Inc.