---

Issue Number 17 August/September 1995

---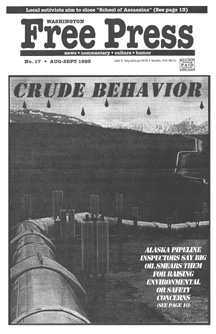 FEATURES:
Cover Photo by Al Grillo
Whistleblowers say Alyeska's rush for oil could tar the planet.
by Eric Nelson
Are stadiums pushing transit aside?
by Andy Bauck
Re-use a toilet seat; save the planet.
by Mike Blain
Local activists join the effort to shut down the School of the Americas.
by Holly Borba
An interview with ergonomics specialist Barbara Silverstein.
interviewed by Mark Gardner
---
SPECIAL:
Viewpoints to consider before the Primary elections.
guest columns by John Fox and Lisa Herbold
Seattle University sponsors Basecamp Seattle a major three-day Women's event.
by Alle Hall
The rich have a lot to thank you for and now they do.
by Bruce Clifton
Disney and the power of children's entertainment.
by Andy Bauck
Training program helps the homeless gain skills, employment.
by Tracy Reed
---
THE REGULARS:
Mail Actual letters from actual readers.
Follow File Updates of past WFP stories.
Free Thoughts Opinions we couldn't keep to ourselves.
EnviroWatch How humans treat their surroundings, each other, themselves.
Working Of and relating to labor.
reported and compiled by Doug Collins.

Spike, the Rabid Media Watchdog The poop on the local information industry.

reported and compiled by Free Press Staff.

Northwest Books Regional writers in review.

literary reviews by Kent Chadwick and Mary Carroll
music reviews by Lance Davis.

Reel Underground Your guide to experimental film.

film reviews and calendar by Paul D. Goetz.
---
BEHIND THE SCENES:

Washington Free Press
1463 E. Republican #178
Seattle, WA 98112
WAfreepress@gmail.com
---
[Home] [WFP Index] [WFP Back Issues] [E-Mail WFP]
---

Contents on this page were published in the August/September, 1995 edition of the Washington Free Press.
WFP, 1463 E. Republican #178, Seattle, WA -USA, 98112. -- WAfreepress@gmail.com
Copyright © 1995 WFP Collective, Inc.