---

Issue Number 15 April/May 1995

---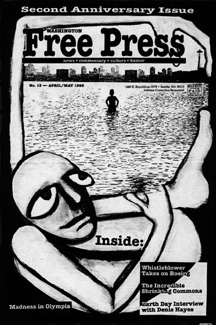 Farewell to WFP Co-founder Mark Worth
FEATURES:
Cover Art by Christina Sporrong
The Seattle Commons seems like a great idea, but as the plans go forward the park shrinks, the price tag goes up, and the Commons increasingly looks like a playground for the wealthy.
by Bernard Regier
Lone-wolf electrician Kevin Kelly battles to shed light on alleged fraud at top-secret plant.
by Mark Worth
The founder of Earth Day talks to the Free Press.
interview by David Hirning
A chat with the founders of this innovative endeavor.
interview by Darlene Rush Allison
Voters called for change last November, but did they really want to destroy our environment and social structure?
by Free Press Staff
Why you should be concerned about Agriculture Legislation.
John Fawcett-Long
---
SPECIAL:
A major local corporation partakes in the modern Caste System.
by John Ambrosavage
Initiative 641 could be the first step to National Referendums, but Philadelphia II, the initiative's organizers are having trouble at the state level.
by Mark Gardner
Boeing is being paid to keep B-2 Bomber production lines "warm".
News analysis by Eric Nelson
---
THE REGULARS:
The First Word Ideas that cut through the bullshit.
by Mark Gardner

Mail Actual letters from actual readers.

EnviroWatch How humans treat their surroundings, each other, themselves.

Working Of and relating to labor.

reported and compiled by Doug Collins.

Spike, the Rabid Media Watchdog The poop on the local information industry.

reported and compiled by Matt Robesch and Free Press Staff.

Northwest Books Regional writers in review.

literary review by Kent Chadwick.
music reviews by Lance Davis.

Reel Underground Your guide to experimental film.

film reviews and calendar by Paul D. Goetz.
---
BEHIND THE SCENES:
---
Washington Free Press
1463 E. Republican #178
Seattle, WA 98112
WAfreepress@gmail.com
---
[Home] [WFP Index] [WFP Back Issues] [E-Mail WFP]
---

Contents on this page were published in the April/May, 1995 edition of the Washington Free Press.
WFP, 1463 E. Republican #178, Seattle, WA -USA, 98112. -- WAfreepress@gmail.com
Copyright © 1995 WFP Collective, Inc.