---

Issue Number 11 August/September 1994

---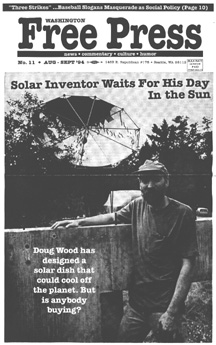 FEATURES:
Doug Wood of Fox Island is designing solar dishes that work, but is anyone paying attention at all?
by Eric Nelson
cover and story photos by Mike Blain
Seattle's innovative Lettuce Link program gets the produce to the people.
by Holly Borba
Sports slogans masquerade as public policy and all the while the police state grows.
by Paul Wright
Jonathon Blank, Director of Sex, Drugs and Democracy, talks with the Free Press about his film, Amsterdam, and the quest for social tolerance in America.
interview by Julia Eaton
Participate by not participating!
---
SPECIAL:
The political left is cornered and on the defensive. But effective campaigns and the adoption of new strategies by progressives may turn the tide.
by Mark Gardner
The Free Press does away with the humor column. Or does it?
humor by Mark Gardner
---
THE REGULARS:
Mail Actual letters from actual readers.
Investigative Digest A sampling of groundbreaking news stories.
Follow File Updates of past WFP stories.
Working Of and relating to labor.
reported and compiled by Doug Collins.

Northwest Books Regional writers in review.

literary review by Helen Wheatley.

Spike, the Rabid Media Watchdog The poop on the local information industry.

reported and compiled by Matt Robesch and Mark Worth.

Free Facts The Northwest in numbers.

Photography by Mike Blain
---
BEHIND THE SCENES:
---
Washington Free Press
1463 E. Republican #178
Seattle, WA 98112
WAfreepress@gmail.com
---
[Home] [WFP Index] [WFP Back Issues] [E-Mail WFP]
---

Contents on this page were published in the August/September, 1994 edition of the Washington Free Press.
WFP, 1463 E. Republican #178, Seattle, WA -USA, 98112. -- WAfreepress@gmail.com
Copyright © 1994 WFP Collective, Inc.