---

Issue Number 10 June/July 1994

---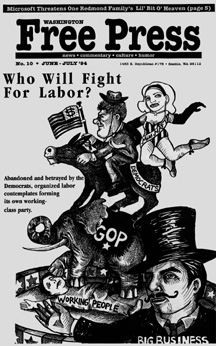 FEATURES:
No, we're not making this up. There is a significant political movement out there that is seeking to bring an independent, working-class voice back into U.S. politics.
by Mike Blain and Mark Gardner
Cover Illustration by Jenny Schmid
Labor and environmentalists unite over NAFTA and GATT.
by Mark Gardner
It doesn't take a rocket scientist (or a Visual Basic programmer) to figure out that Microsoft's Redmond campus has affected the water quality of its neighbors.
by Matt Robesch
Keep one hand on the steering wheel and the other on your wallet; privatization of new highway projects is already in the express lane.
by Mark Gardner
Is it any surprise that Mark Sidran and his City Council cronies undermine tenants' rights and harass the homeless? They're a bunch of landlords.
by Doug Collins
Lauren Tozzi of the Seattle Worthy Wages Task Force talks with the Free Press about her organization's struggle to gain recognition and fair compensation for childcare workers.
interview by Tracy DeCroce
---
SPECIAL:
A bizarre college entrance essay that worked.
humor by Hugh Gallagher
The Seattle Community Network is working on ways for the "Information Superhighway" to support community development.
by Doug Schuler
Just why did the Sonics choke in the first round of the NBA playoffs?
by Julia Eaton
---
THE REGULARS:
The First Word Ideas that cut through the bullshit.
by Mark Worth

Mail Actual letters from actual readers.

Free Thoughts Opinions we couldn't keep to ourselves.

Follow File Updates of past WFP stories.

Working Of and relating to labor.

reported and compiled by Doug Collins.

Spike, the Rabid Media Watchdog The poop on the local information industry.

reported and compiled by Mark Worth and Mike Blain.

Northwest Books Regional writers in review.

literary review by Kent Chadwick.
---
BEHIND THE SCENES:
---
Washington Free Press
1463 E. Republican #178
Seattle, WA 98112
WAfreepress@gmail.com
---
[Home] [WFP Index] [WFP Back Issues] [E-Mail WFP]
---

Contents on this page were published in the June/July, 1994 edition of the Washington Free Press.
WFP, 1463 E. Republican #178, Seattle, WA -USA, 98112. -- WAfreepress@gmail.com
Copyright © 1994 WFP Collective, Inc.